The MDpay ACS software platform is one of the most mature 3D-Secure products on the market. Modirum has been involved with the Visa 3-D Secure protocol since its launch and the first European implementations. Modirum MDpay ACS was the one of first product to be named compliant with the 3-D Secure protocol by Visa and continues its feature and performance leadership.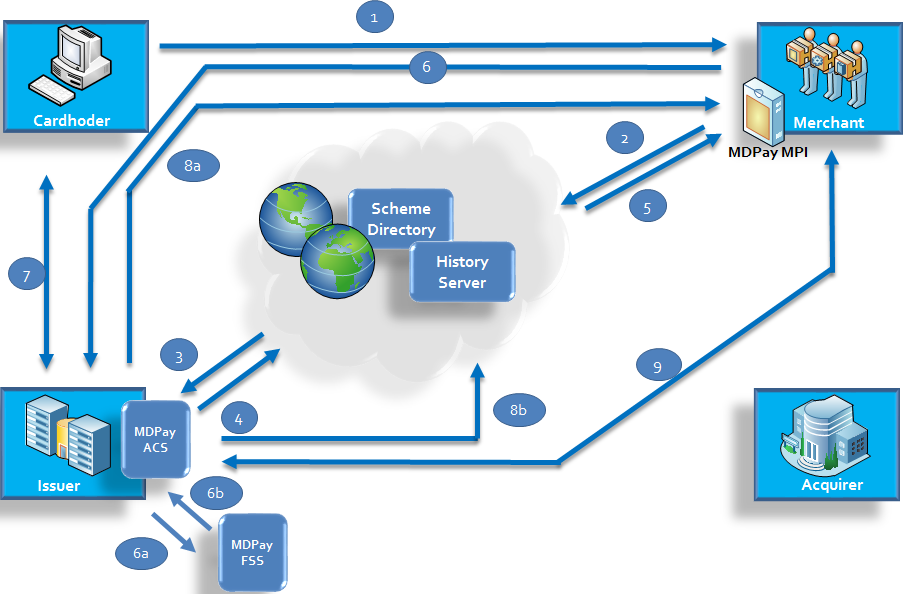 3-D Secure Protocol Support
MDpay ACS is certified for 3D-Secure protocol specifications:
American Express SafeKey

Discover ProtectBuy

MasterCard SecureCode

Verified by Visa

JCB J-Secure

UPOP by Union Pay
Functionality
Mdpay ACS is designed for high volume card and transaction environments, supporting:
An unlimited number of issuers per installation

An unlimited number of cards per issuer

Multiple languages per issuing bank

HSM hardware based database encryption

Extensive transaction logging and log search functionality

Detailed standard and customised reports

Multiple authentication methods

Secure browser based administration interface, including delegated access levels per issuer, Issuer & card range management, Card enrolment and management and Transaction search & view on message level
Card Management System Plug-Ins
The product supports the following integration alternatives to existing card management systems:
No integration – standalone acs




–  ACS database (Any JDBC compliant database)




–  Card data managed through the admin interface

Batch update interface to ACS database




–  Card data can be updated via batch interface




–  Transaction data can be exported via batch interface

Http Post based online update and query interface




–  Card enrolment and card data update




–  Transaction tracking




–  Http post based interface for easy integration




–  Secured by SSL certificates and/or digest

Tight integration with external card store




–  All or part of card & transaction data outside ACS




–  Online query to external card management system during transaction




–  Several messaging architectures possible

Modirum APIs




– Open API for authentication and Data management




– Allows issuers to control and manage cardholder data and authentication flows
MDpay ACS supports the following authentication methods:
Standalone authentication by ACS or external bank card management system




–  Card user passwords stored in ACS database




–  Enrolment either by user, administrator or batch

Authentication forwarding to external party




–  Plug-in interface for integrating to external authentication, typically the web-bank

Mobile One-Time-Password via SMS, USSD, SIM Applet, Apps

ModirumID – Out of band authentication App for Android, IOS and Blackberry

Dynamic Passwords – EMV cards and CAP/DPA

Display Cards – OATH HOTP, OCRA, CAP/DPA

Tokens, Password lists, etc
 Multi-Channel Support
The product supports the following channels by default:
Internet (html)

Mobile (wml)

Pda (html)
An unlimited number of languages are supported. Languages can be defined on an issuer, card range or cardholder level.
HSM's supported
MDpay ACS can use any HSM supporting full openssl functionality and pkcs#11 interface. In addition we support natively Thales Payshield 9000 and Safenet Luna.
Open Architecture
The product is currently being used by Modirum clients in the following architectures:
Linux, Windows, Aix, FreeBSD, Solaris, HPUX

MySQL, Microsoft SQLServer, Oracle, DB2